Dr. Sternberg specializes in ankle ligament repairs and arthroscopy of the ankle. Ligamentous repairs involve stabilizing a weak ankle after chronic ankle sprains. Athroscopy involves using a camera that is inserted inside the ankle joint to diagnose joint conditions.
ANKLE ARTHROSCOPY
Arthroscopy is an outpatient procedure performed using a small camera placed inside the ankle joint. Various instruments can be placed inside the joint while observed by the camera. Loose pieces of cartilage, defects, bone chips, inflammed joints linings, etc.. can all be addressed through 2-3 small incisions.
Symptoms:
Ankle joint that locks and then releases
Chronic ankle swelling and pain
Clicking and grinding inside the ankle joint
Recovery:
Non-weight bearing 5 days
Walking cast 2 weeks
Full recovery 3-6 weeks
PRP Injections
Platelet Rich Plasma (PRP) is a product derived from the patient's own blood. 30 cc of blood is drawn in the office. This is the amount of a normal blood draw for lab work. It is then place in a centrifuge and separated to blood cells and plasma.
The plasma is then further concentrated into an injectable mixture. The mixture is ten injected into the end of the Achilles tendon and provides healing and reduces inflammation.
The idea is to use the stem cell and healing agents in your own plasma to heal the tissues. It has a very good success rate in tendon problems such as Achilles tendonitis.
The procedure can be performed in the office and needs to be in a removable cast for 2 days following the injection. A patient is required to ice the area and avoid anti-inflammatories a week before the injection.
This procedure is the mainstay for things such as tennis elbow and rotator cuff problems. Professional athletes have this done as a first line of treatment.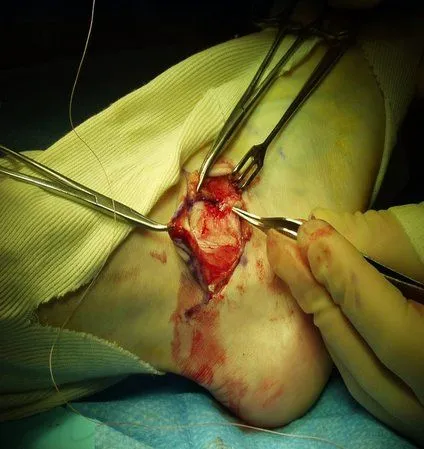 Ligament Repair
Ligament repair (Ankle stabilization) is performed on patients who continually spain their ankle. After numerous sprains, the ligaments become weakened and cannot support the normal body weight.
Surgery consists of reattaching the torn ligaments and then reinforcing the ligaments using the covering of the bone and synthetic ligament graft. The idea is to recreate strong ligaments in place of the weakened ones.
Symptoms:
Chronic sprains
Chronic pain and swelling to the outside of the ankle
Recovery:
Non-weight bearing cast 2 weeks
Weight bearing cast 3-4 weeks
Full recovery 8-12 weeks